Thursday, May 26th - 10:45pm
Location: Doug Fir Lounge
In the midst of a sample of the Specials' "
Message To You Rudy
", the euphoria of the moment strikes me.
We're maybe six songs into
DoublePlusGood
's set, and I'm two beers in. If I went for a third, I'd probably start dancing like the guy over to my left - (a sort of flailing about that includes gratuitous trunk and arm movement, not just the feet) - But currently, I'm happy doing my "white-boy-nod-and-shuffle" dance.
Now, I'll be the first to admit that I'm a little bit out of my element with this. My knowledge of electro-pop is limited, (at best). I do have the first two
Fischerspooner
albums; I love the
Postal Service
, (and I have a deep-seeded dislike of Owl City because of it). I know my way around the mainstream late 90's Big-Beat electronica folks - Chemical Brothers, Crystal Method, Fatboy Slim, etc…. I even have an obsession with
Underworld
and the
Orb
. I know my 80's synth-pop pretty well - Hell, I even like the
KLF
, for God's sake… So, I wouldn't say I'm completely retarded in regard to this kind of music.
But, seeing DoublePlusGood play live was more transcending than the term "electro-pop", that might be tossed about as description.
The beats are completely danceable, (even to an uptight white-boy, like myself). The synths are ever-changing and layered, not just a fat Moog sound with a disco-beat. Andy's live drumming notches up the intensity of several songs with near-primal tom usage that strays away from the kick-snare-hi-hat combination.
By now, a couple of my friends have moved up closer to the stage, mere inches from the moniters, now leaving me in the 2nd row as the music pulsates away. I'm fine with this.
Up on stage, Eric is singing and master-minding the synth and computer-work during the whole set. Between each song there's barely a break, usually a scattering of samples that work to immerse the audience - giving me the feeling that I'm seeing/hearing/feeling the greatest mix album ever… (and yes, that means that Lo-Fidelity Allstars' "
On The Floor At The Boutique
" has fallen to 2nd place, in my book….)
To sum up my viewpoint of what I'm hearing is this:
Morrissey fronting the coolest electro band ever.
Because not only are you getting hit with the beat and the music, what you're also hearing are great songs. No, not just something to shake your ass to, but perfectly executed songs!
Being nearly 30 and having three kids makes it difficult to get out and see local shows, (and if you're single or don't have any kids, then you really have no excuses). But, the stars had aligned and I was able to come out and make this show at the Doug Fir. I found this show rejuvenating and, (most of all), a hell of a lot of fun. As serious as the songs are, there's a bit of tongue-in-cheek, exemplified by the Street Fighter samples or a Rihanna cover.
So, thank you DoublePlusGood - you made my week…
Two things though….
and
2. Please, please, please cover New Order's "
Temptation
".... And then my life will be complete.
Now, on to that third beer…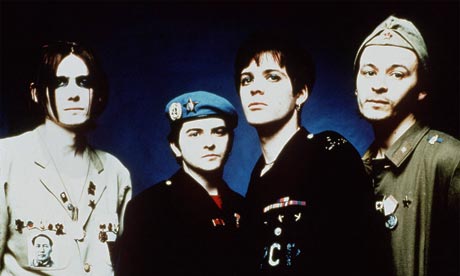 This week's song of the week is: "
Faster
" by Manic Street Preachers
This song was the only single off their album "
The Holy Bible
" back in 1994. I'd put every song on that album up here, but I will try to contain myself. With song topics ranging from anorexia, the holocaust, and hopelessness - this album deserves your attention. This album is a stroke of intelligent lyricism and scathing brutality that I still don't fully understand… And it makes me feel like I should be reading way more books on existentialism…
Either way, here it is - the Preachers before Richey Edwards disappeared off the face of the earth, leaving the rest of the band to UK super-stardom and, (unfortunately), less vital music…..